You Should Read This IV
Welcome back to "You Should Read This," a column where I get to recommend three pieces of literature I think you should read. After the last post's special used book sale edition, we're back to our regularly scheduled programming this week.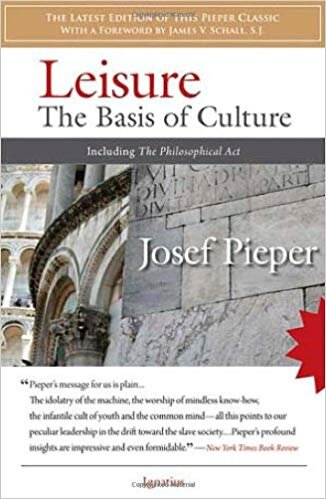 Whenever it comes time for my book club to choose our next reading assignment, we all submit suggestions for a poll and vote on what we think we should read next. For the past year or so, every time we've had a poll, Joseph Pieper's Leisure: The Basis of Culture has made an appearance, often nearly winning the poll but always just losing to something else (most recently, Chesterton's Manalive and then Peterson's 12 Rules for Life). Finally, however, Pieper's time has come: on our latest poll, Leisure received the most votes, so we will be working our way through it for the next few weeks.
I am only two chapters in, but so far Pieper has been laying the philosophical groundwork that will, I presume, prove crucial to his thesis that leisure is one of the cornerstones of Western civilization. His primary goal so far has been to express the importance of not overvaluing work, both physical and intellectual, and to set his own philosophy in line with that of Plato and Aquinas and against that of Kant, among others. I am looking forward to seeing in the remaining three chapters how Pieper fleshes out his claim that it is of the greatest importance to human society "that a place should be made for activity which is not 'useful work' in the sense of being utilitarian" (40).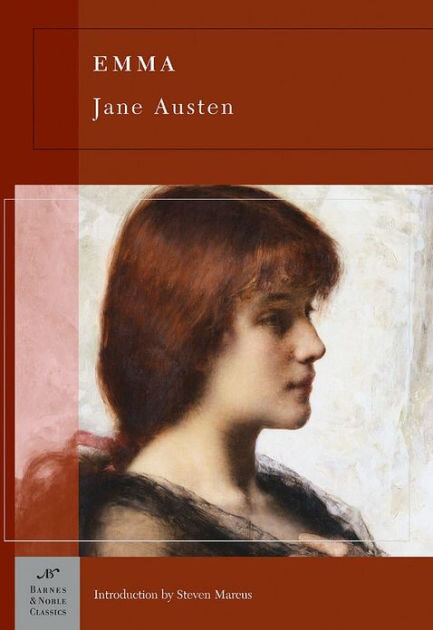 Based on the sheer number of film and television adaptations, Pride and Prejudice is almost certainly Jane Austen's most popular work. I have read that novel at least four times, and it is undoubtedly excellent. However, my personal favorite of Jane Austen's works is Emma.
Emma can be a little daunting. It is about 100 pages longer than Pride and Prejudice, for example, and the titular character truly lives up to what Austen herself called her: "a heroine whom no one but myself will much like." Furthermore, I would posit that Austen's portrayal of Emma, with all her virtues and foibles alike, is perhaps more subtle than that of any of her other characters.
Emma is, indeed, a difficult person to love. She is spoiled, meddling, and gossipy; and throughout most of the novel she exhibits a stunning lack of both self awareness and awareness of what would be best for the people in whose lives she has involved herself. However, it is these very faults that make her such a human character. After all, can't we all find ourselves in Emma's propensity for matchmaking? And, ultimately, who can fail to find endearing her genuine desire to see her friends and family happy? Somehow, Austen manages to make us fall in love with Emma as the character herself gradually realizes her own foolishness and attempts to make amends for some of the hurt she has caused. By the end, we are all happy to see her find the kind of happiness she has been trying to achieve for other people all along.
You've Probably Never Heard Of…
Given that I've briefly mentioned Charles Dickens' Our Mutual Friend in each of my previous blog posts in this series, it's about time I talk about it at more length. It is, after all, my second favorite book.
Our Mutual Friend was Dickens' last major work and is probably his most underrated. It has all of Dickens' trademarks, up to and including vividly detailed descriptions of people and places; an eclectic cast of characters in which a name often reflects the person (like a beautiful young woman named "Bella" or a stern, frightening headmaster named "Headstone"); and at least ten storylines that meander through the streets, sneak around the ash heaps, and float down the Thames of mid-19th-century London, only to somehow cross paths at the same juncture: a mysterious man named John Rokesmith, the titular "mutual friend."
What I love about Our Mutual Friend is first and foremost the characters. I see in this novel several re-workings and refinements of Dickensian character types from his previous novels, such as Fagin from Oliver Twist and Sydney Carton from A Tale of Two Cities. Some of the characters are more broadly drawn, usually to hilarious effect—Mr. Venus the Articulator, for example, is an absolute delight to read about—and some of them exhibit Dickens' ability to portray the more delicate subtleties of human nature. Bella Wilfer is a particularly well-written character and perhaps the most nuanced and realistic woman in any of Dickens' novels. Combine these with a plot filled to the brim with murder, an unexpected inheritance, unlikely friendships, self-sacrifice, and a literary man with a wooden leg, and you have what is, in my opinion, Dickens' finest work.
Which is your favorite Jane Austen novel? Defend your pick in the comments below!
Helen DeCelles-Zwerneman is Operations Manager, Web Master, and Artistic Director for Cana Academy.