You Should Read This: Used Book Sale Edition
Welcome back to "You Should Read This," a column where I get to recommend three pieces of literature I think you should read. This week, since my library had one of their biannual used book sales a few weeks ago, I've put a little twist on my usual content.
Walking into the library used book sale, I felt a rush of excitement, a little bit like an archaeologist must feel when faced with a new dig. What treasures would I find buried here? What delicately bound volume could I steal for only a few dollars? What long-sought-after, out of print novel, given up as a lost cause years ago, might I stumble across amongst the 50-cent paperbacks?
The best part was, everyone else was there for the same reason. From my roommate hunting down delightfully illustrated children's books for her already extensive collection; to my friend who almost exclusively buys ornately bound hardback classics to fill out his library; to the little old ladies helping each other spot the mystery novels they hadn't read yet; to the stranger looking for a copy of Persuasion for her friend whom she'd recently introduced to Jane Austen: everyone was there out of the same love of books. This meant that the competition was stiff—the piles were well picked over by the time I got there—but the competitors were more than worthy.
After combing through stacks upon stacks upon stacks of books leaning comfortably against each other on a dozen rows of shelving and piled neatly across several large tables, I came home with 22 books, and all for a grand total of only $14.50! (The bargain pricing is half the fun.) Tucked in there amongst another emergency copy of Our Mutual Friend, the Folger editions of Henry IV, Part One and Titus Andronicus, and a slew of other classics, I found the subjects of this week's post.
And, dear reader, because I'm not covering quite my usual material, I've changed up this week's categories a bit.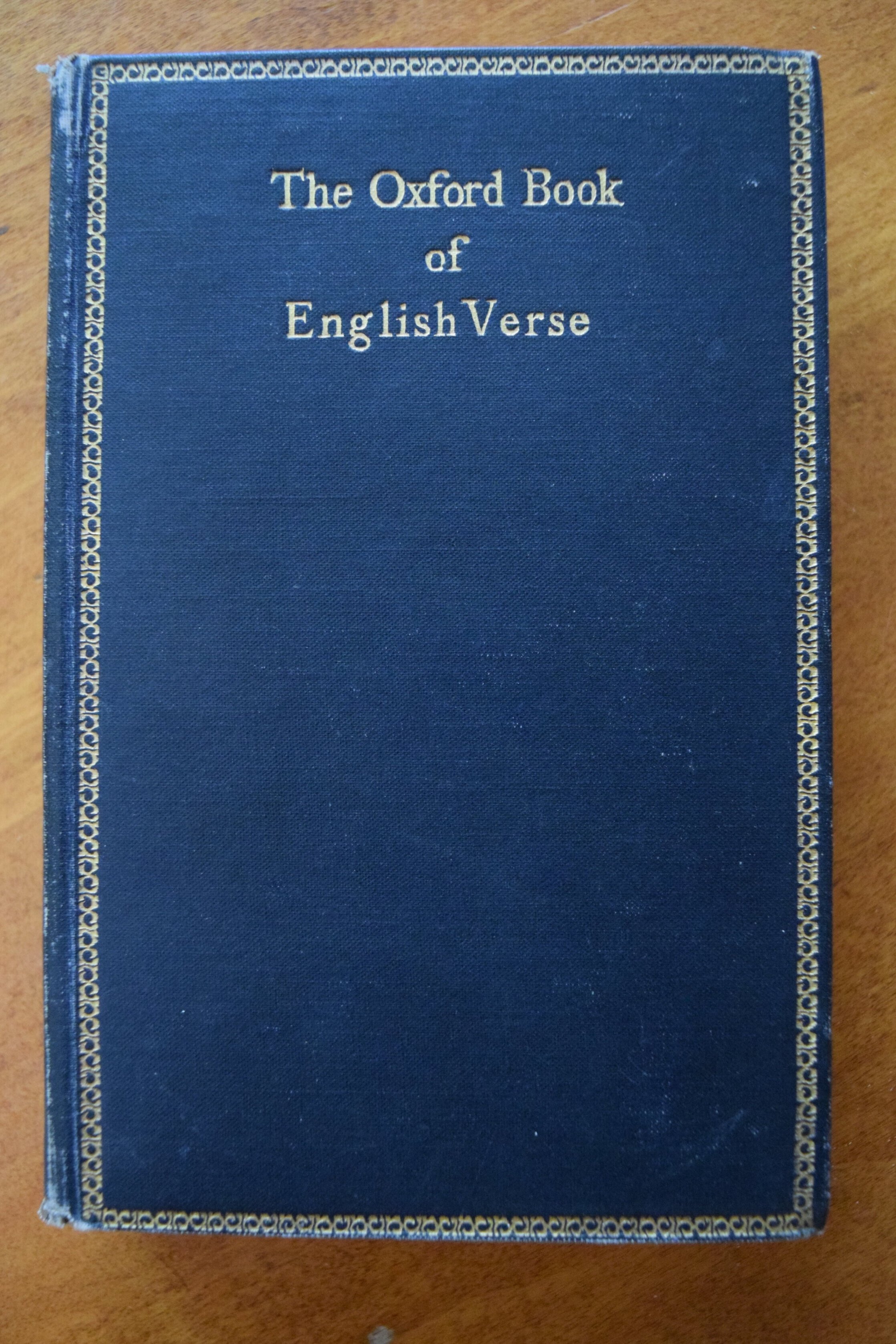 The 1925 edition of The Oxford Book of English Verse, edited by Sir Arthur Quiller-Couch, has an unostentatious but simply elegant binding, a gently textured, deep blue cover with a delicate gold border embossed along its outer edges, the sheen dulled by time. I picked it off the shelf in the sale's Poetry section mostly because "Book of English Verse" sounded so promising. I was not disappointed: the table of contents includes such greats as Donne, Scott, Longfellow, and Yeats.
However, what really sold me on this particular copy were two things that appeared only when I opened to the fly leaf. The first was the little white sticker in the top right corner. There, penciled in the cursive that so unmistakably belongs to a librarian or antique shop owner, it read, "1st Edition." The second thing was the inscription on the fly leaf, slightly faded but still clearly legible:
"Edith Olenny Norris
Christmas, 1929
from Mother"
In 1929, a loving mother gave her daughter a beautiful gift for Christmas; and here I was, almost ninety years later, holding that gift in my hands. This is one of my favorite aspects of used books, this physical and intellectual connection to past readers and past owners. Buying and reading and loving a new book is a joyful, exciting experience; but picking up a used book makes you a tiny link in the history of that book, and that's even more exciting.
A Classic I've Never Read But Should
I first read The Return of the Native by Thomas Hardy a few years ago and was struck by the distinct contrast I saw in Hardy's style. At times, I found him frustratingly Victorian in his sometimes overwrought depiction of characters. At other times, however, I found myself irresistibly pulled into the story, like when he turned to realism with a character like Diggory Venn or when he painted an unforgettable picture in my imagination of an eerie scene of two men gambling out on the night-time moor, their game lit only by glow worms.
Ever since then, I've been meaning to read Hardy's 1891 novel, Tess of the d'Urbervilles, for the enjoyment of the thing and for the sake of being a well-read person. Other books have intervened until now, but purchasing a like-new paperback copy at the book sale means now I have no excuse. Published 13 years after Native, Tess is arguably Hardy's best known work. In a recent conversation, a friend and fellow book club member warned me that Tess is very sad but also posited that Hardy's social commentary in this novel is more nuanced and subtle than in some of his other works. I'm eager to test this theory, as well as to see if and how Hardy's style developed over the years since he had written The Return of the Native.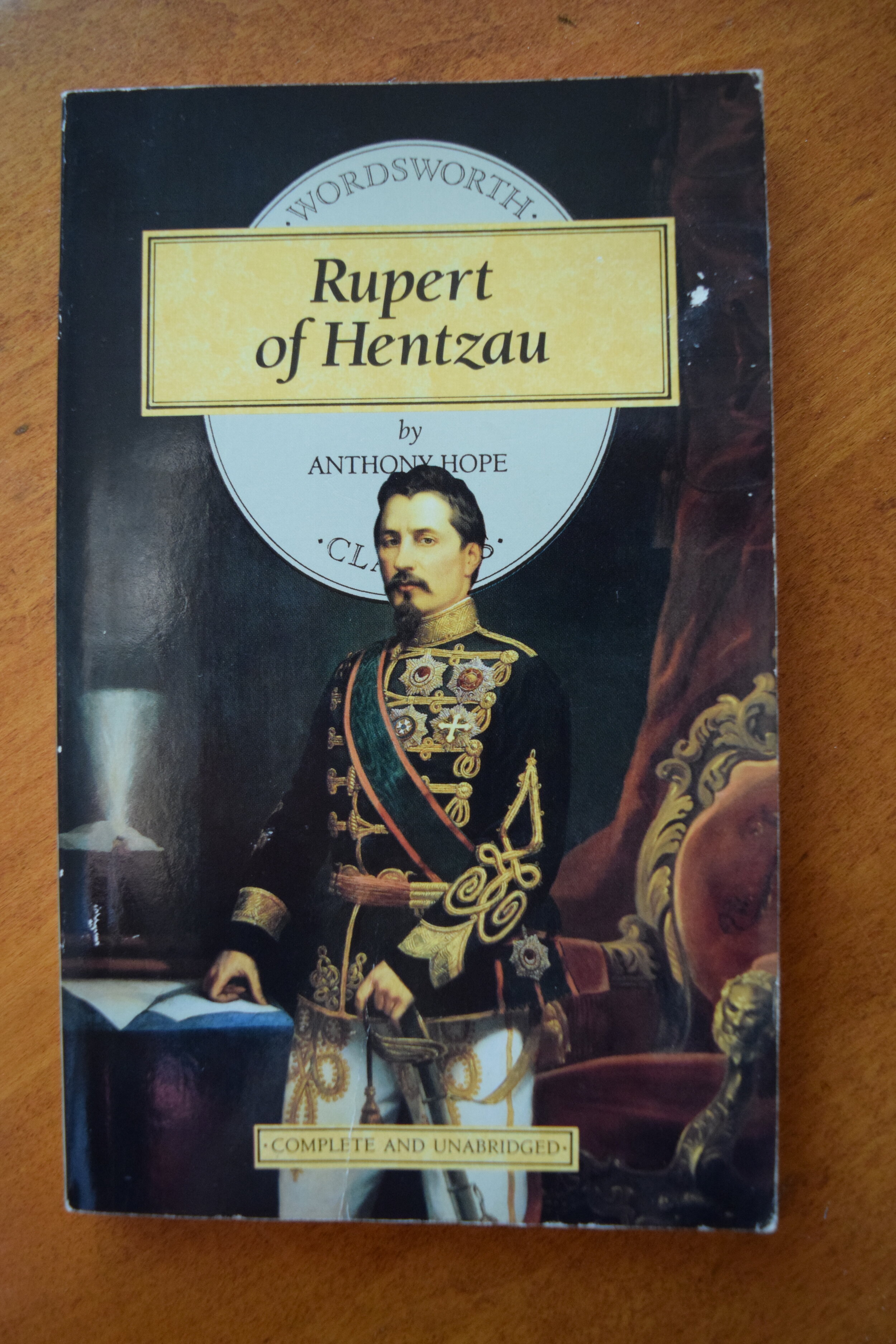 You've Probably Never Heard Of…
At some point in my childhood—I don't quite remember when—someone gave my family a beautifully illustrated copy of The Prisoner of Zenda by Anthony Hope. One of the very first novels in what is now called the Ruritanian Romance genre, Prisoner of Zenda is a thoroughly satisfying story of doppelgangers, intrigue, sword fighting, romance, sacrifice, and espionage, all narrated by a charming hero. The best comparison I can think of is The Scarlet Pimpernel, except Prisoner and all "Ruritanian Romances" are set in a fictional European country rather than in an actual historical setting.
The primary villain of Prisoner of Zenda is Duke Michael of Streslau, but much of his dirty work is carried out by a dashing young cad named Rupert of Hentzau. When I first read Prisoner, I learned that Anthony Hope had written a sequel dedicated to Rupert and titled after the man himself, but I failed to find it anywhere. Many years later, I've re-read and enjoyed Prisoner as an adult; and, at a different library used book sale, I've even stumbled across an edition of Wilkie Collins' Woman in White illustrated by the same artist as that first edition of Prisoner that I read. But I had forgotten all about the sequel and my previous foiled attempts to track down a copy until I was digging through boxes of 50-cent paperbacks at the library book sale and, with a little jolt of pleasurable surprise, caught sight of that familiar name: Rupert of Hentzau. Of course, I bought it, and now I can't wait to find out what evil schemes Rupert gets up to in this story.
What's the best inscription you've found in a used book? Tell me in the comments below!

Helen DeCelles-Zwerneman is Operations Manager, Web Master, and Artistic Director for Cana Academy.
All images by Helen DeCelles-Zwerneman.